"Remember by whose gift you ascend." -Prophetess Victoria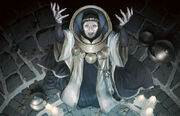 Era: First and Second
First: Prophetess Victoria
Fealty: The Order
Distinctions: Holy symbols
Wielding power sanctioned by the gods, they are the heart of the Order. They guard their comrades and heal them when they are hurt, and they direct the course of the battle by weakening chosen enemies. 
Some priests prefer to deal with foes directly, wading into hand-to-hand combat or scouring enemies with radiant blasts and pillars of flame. Others follow the path of the shielding priest to defeat opponents by supporting stouthearted companions. In this role, they do not fear battle, but they understand that their divine power does the most good by blunting the attacks of their enemies and bolstering the efforts of their allies. Through their prayers, they share their own unshakable confidence and determination with their companions, heartening them for the challenges ahead.
They are theologians, and they have devoted themselves to learning the nature of the gods and their dominions. Through years of study, they have developed philosophies that grant them deep understanding of higher realities and the properties of divine power.
Astral savants use their uncanny insights to tap into the raw power of the forces that shape the Astral Sea, creating a wide range of effects with their prayers. They wield divine energy in ways that other orders cannot, warding and sustaining their allies against their foes.